Jackrabbit Mountain Bike Trail Hayesville, NC
Home > Outdoor Recreation in the mountains >Jackrabbit Mountain campground
Directions:
The trail head is located closest to the town of Hayesville, N.C., not far from either Murphy or Franklin on US Hwy. 64.
From Murphy, NC at US Hwys. 19-74-129:
Follow US Hwy. 64 East for 18.9 miles and turn right on NC Hwy. 175 South.
From Franklin, NC at US Hwy. 441:
Follow US Hwy. 64 West for 28.3 miles and turn left on NC Hwy. 175 South.
Go 0.9 miles and turn right to stay on NC Hwy. 175, crossing a new concrete bridge over an arm of the lake. Go 2.5 miles and turn right onto Jack Rabbit Road. Bear left after 250 ft., staying on Jack Rabbit Road. The signed parking area is on the left after about 1/2 mile. (The campground is straight ahead at the end of Jack Rabbit Road).
Facilities: picnic tables, information board, entrance, maps & junction signs. plenty of parking, pit toilets, and picnic tables & BBQ grills by the lake. Drinking water is also available. Fees: none
Camping: Camping is available down the road buy the lake at the Jackrabbit Mountain Campground It's not far to ride your bikes back and forth.
The campground is open May thru September
Jackrabbit Mountain Recreation Area at Lake Chatuge: White Sandy beach on Lake Chatuge with bath rooms and picnic areas. Located past the bike trails a little ways.

Closest town: Hayesville North Carolina
Want to read the flora signs on the trail you may not have stopped for? Click on the Flora of Jackrabbit trail picture below.
Jackrabbit Biking Trail
On a peninsula of beautiful Lake Chatuge, located within the Nantahala National Forest, on the North Carolina Georgia border in Hayesville NC, lies a superbly maintained, marked and designed mountain biking trail name Jack Rabbit Bike Trail. The natural beauty of this area is Good for the Soul. not to be outdone by the health benifits of fresh air, clean water, and good old mountain mud.
Close to 15 miles of machine constructed single track stacked-loop trails specifically designed to appeal to all skill levels, beginner to advanced. The layout is perfect for groups of varying skill levels or riders who want to vary their mileage without being monotonous. trail maps are at each juncture in case you get turned around and for the hikers interest peaking flora signs are throughout the trail pointing out the many trees and plants of the area as well as some of their uses.
The Central Loop trail is 3.1 miles and the "core" trail that all other trails are connected. Some trails wander through the woods to the ridge-top. Almost every bike trail has lake views in the winter. While other paths will yield peek a boo views of Lake Chatuge all season long under the large stand of trees through out the trail. . Most have gentle climbs, fast down hills and cowbells. Jackrabbit bike trails follow the IMBA guidelines, non-technical, flowing, fun single tracks.
The biking trail system was a collaboration between the Southern Appalachian Bicycle Association (SABA), the Tusquittee Ranger District of the USFS, and the Clay County Communities Revitalization Association (CCCRA)
The next goal is to create more mileage including a connector trail that will tie these trails to its neighboring campground. Future plans also include the addition of rest rooms, a pavilion and a bike wash station.
Quickly becoming one of the best rated biking trails in the southeast. It is most definitely a great location to spend an hour or an entire day. Even makes a great hiking trail for family members that don't ride but PLEASE keep your eyes and ears open and give bikes the right away.
Here is a Jackrabbit Bike Trail Map
Want to see all the Bike trail plaques? click on the Jack Rabbit Trail Map below.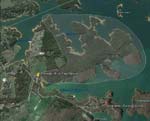 See how the peninsula has the shape of a rabbit?