Bridal Veil Falls
Relocating to Western North Carolina mountains? Check this Out! Great Carolina Property
Home > Outdoor Recreation in the mountains
Fall size: 120 feet
Beauty Scale: 5
(1-worth seeing-10 awesome)
Directions:From Highlands, North Carolina
Bridal Veil is easy to find. Just look for the sign on U.S. 64, 2.5 miles east of Highlands in the Cullasaja
Facilities: none
Fees: none
Closest town: Highlands North Carolina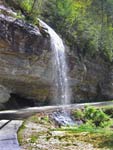 Bridal Veil FallsHighlands North Carolina
Bridal Veil Falls is unique because you use to could drive your car right underneath it!
Now a huge bolder has fallen and blocked the drive, the last time we went by there (fall of 2006) the bolder was still there.
Bridal falls is 120 feet from the top of the falls to the pavement., This fall cascades over US 64/28 3 miles from town. Can be viewed from the road but be careful!!! a very busy road full of tourist. It is a good place to stop on your way to Dry Falls and Cullasaja Falls.